---
AC Maintenance Services in UAE - All Type of Air Conditioner Maintenance Services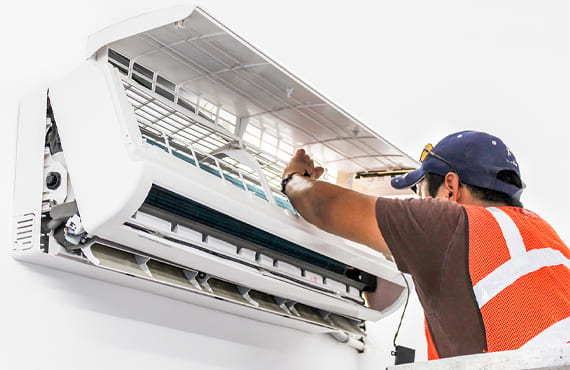 During the summer months, people use air conditioners to keep their home cool and comfortable. Home and business owners ensure that they did proper Air Conditioner Maintenance Services to protect their AC unit. If you ignore the regular maintenance service, it may turn into costly repairs and replacement
Replacing your Air Conditioner can be expensive, but keeping on top of maintenance extends the life of your equipment. In other words, AC replacements can be prevented with proper maintenance. You can avoid these situations by having proper AC Maintenance from an expert team.
How to protect your AC unit by providing proper Air Conditioner Maintenance Services
People schedule regular checkups to reduce the possibility of unexpected and costly repairs. An experienced and talented technician will notify any worn equipment or the need for repairand parts replacement. Thus, they can provide a reliable AC Maintenance Services for you. Proper maintenance also reduces the stress on air conditioners. When ducts are clogged and filters are dirty, your AC unit must work its maximum to maintain air output. This causes increased stress on the motor and cooling units and can soon result in a breakdown.
Regular maintenance keeps air conditioners working at optimum capacity as well as helps this equipment conserve energy. A proper AC Maintenance Services includes a thorough cleaning of blades, cooling coils and other components, etc. Thus it maximizes the energy efficiency, which saves you money on utility bills. The important checkpoints of AC Maintenance are as follows:
Duct Cleaning
Monitoring/replacement of coolant
A thorough inspection of equipment and seals
Thermostat check
7 Top Guidelines for Air Conditioner Maintenance
For the effective operation of the AC unit, regular maintenance and service of parts like filters, coils, fins, drains etc. is very important. If you ignore the proper Air Conditioner Maintenance, it results in a breakdown.
Here are seven top AC Maintenance Guidelines
Regular maintenance & clean up of air filters
Dirty and clogged air filters prevent normal airflow and reduce the cooling capacity of the AC system. It can be prevented through regular cleaning of air filters once a month. Regular cleaning of air filters ensures proper cooling.
Cleaning of Evaporator coils
Even though a clean air filter prevents the cooling coils from dust and dirt, some dirt and debris get deposited on the coils over time. This badly affects the heat-absorbing capacity of the coils, hence it affects the room cooling process. Evaporator coil cleaning is necessary for protecting your AC unit from dust and dirt.
Maintenance of condenser coil
In all types of AC, the condenser and fan unit is located outside the home. The outside dusty environment, falling leaves, rain and wind etc. affect the condenser coils. As a result, it will be difficult to dissipate the heat outside. Cleaning of the condenser coil is the best remedy for the condenser to work efficiently.
Cleaning coil fins
Aluminium fins are visible to anyone on the condensers and evaporator coils. The dust and debris get accumulated over the fins and you are required to clean the fins to protect the evaporator and condenser.
Unclog the rear drain
When the drain at the rear end is blocked, then water lies inside the AC finds no space to leave and drips inside the room from any opening. If the water inside the AC unit finds no vent, the humidity level inside the room increases.
Cover up the compressor unit during winters
If you are not using your ac during winter times, cover up the compressor unit with a cloth to prevent dust and dirt from entering inside the unit.
Complete cleanup and service
Before starting the summer season, call an AC Service professionals to ensure complete cleanup and service of your air conditioner. They check up all the AC parts, like coils, compressor, fins, filters, drains etc. and takes the necessary steps to fix the problems.
Air quality is important for everyone to spent most of their time cool and comfortable. When your Air Conditioner fall into disrepair, dirt, and debris, it will create a negative impact on theindoor air quality. At Al Amal Al Mumayez AC Unit, we offer all type of AC Maintenance Services in UAE. We are specializing in all aspects of air conditioning maintenance in UAE and can help keep you and your family cool this summer. Our expert team encourage every HVAC system to be serviced the way the company designed. The team schedule AC Maintenance services which ensure clean, comfortable, indoor air all year-round.