---
AC Repair Services in UAE - Highest quality Air Conditioner Repair Solutions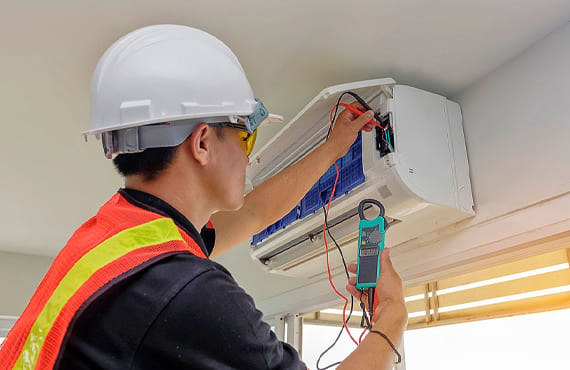 Al Amal Al Mumayez AC Unit Fix Cont is one of the finest AC Repair Services Companies in UAE. The company was established in 2015 and has been attending the field of Air Conditioning Repair Services in UAE for more than 5 years now. In addition to this, the company fulfils the cooling requirements of a large number of corporate, commercial as well as residential clients. We are engaged with certified and insured technicians to provide the best AC Repair Services in UAE.
If you are noticing that your HVAC System is no longer seems to cool your home. There are many reasons to occur this air conditioner breakdown. This is why it is essential to get in touch with our excellent team to repair your ac unit within a period. We will inspect the problem first and then diagnose the nature of the problem. After that, we take the necessary steps to fix it. Airflow issues are the main causes of your HVAC breakdown such as hot or cold spots throughout your house, hearing whistling sounds in draftier part of your home, warm air flowing from your HVAC System, or weak or no airflow emitting from the equipment.
Top Causes of HVAC Air Flow Problems
There are also a lot of reasons it may develop airflow issues. The following are simply amongthe airflow issues.
Blocked Vents
If you facing that your AC is no longer cooling your home properly, you have to check your vents. It can be blocked by a piece of furniture or something else. The staff at Al Amal Al Mumayez will fix the problem by removing the obstruction.
Clogged Filters
You will have to practice proper maintenance for the AC unit to avoid problems with your HVAC system. We will help you by replacing your filters regularly. The main advantage is that it protects your HVAC system from debris and contaminants.
Duct Problems
Sometimes air conditioner airflow problems are the consequence of leaking ducts. You can avoid these issues by ensuring regular HVAC Maintenance. We have a team of technicians who are expert in identifying and fixing problems. We will remove the debris to prevent it from blocking your HVAC systems' airflow.
The Wrong HVAC System
AC system that comes too large may cause airflow issues as it tends to cycle on and off too frequently. You will feel humid in the areas of your home. Cycling on and off frequently stopsyour HVAC system from completely removing the humidity. At Al Amal Al Mumayez, we will measure your problem and recommend the best solutions.
Thermostat Issues
Sometimes, you will find HVAC airflow problems because your thermostat is not functioningcorrectly. If it is not working even after you set the thermostat to the desired temperature, your HVAC system may not register the adjustment. You will likely need professional assistance to determine the actual cause of the problem. Our air conditioning repair services help you solve all these problems.
Insufficient Refrigerant
If you don't practice regular maintenance, you may face refrigerant leaks. Leaking refrigerant will stop your HVAC system from cooling your home effectively. Gradually it leads to reduced airflow. Refrigerant can be dangerous if you are not giving necessary protection to it.Thus, if you think your HVAC system is leaking, you can call us as soon as possible.
Whenever the warm weather starts, the home and business owners want to make sure that their air conditioner is working efficiently. At Al Amal Al Mumayez AC Unit Fix Cont, we have an excellent team of workers to examine your AC and find the correct problems with your HVAC system. Above all, our team will ensure that your air conditioner is working effectively and efficiently. As one of the best Air Conditioning Repair Services in UAE, we do all kind of top-end ac with any condition and offer customized repairing services to the clients. In addition to this, our air conditioning technicians attend every home with respect and make sure our AC Repair Service is finished promptly.